Private tour.
Licensed guide.
Chauffeured tour.
3 days & 2 nights.
2 people

4 people

6 people

Price

per person

2225 €
1470 €
1220 €

Our philosophy being to be serious without taking ourselves too seriously, our guides will not give you a lecture but will take you as a friend and in a relaxed way, reveal plenty of anecdotes about the Alsace and will tell you about our daily life in this beautiful region.
All our guides are licensed and bilingual. Each of them will give you detailed historical and architectural visits of the highlights of the Alsace region. He or she is qualified and entitled to take you through any indoor and outdoor site such as the vineyards, the family estates, the Cathedral of Strasbourg, etc.
Day 1: Arrival in Strasbourg
Arrival at Strasbourg train station or airport in the morning.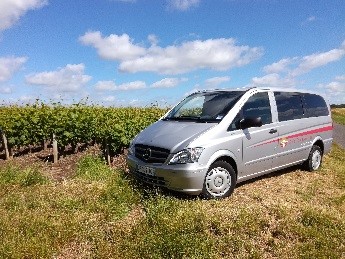 You meet with your private expert national licensed English-speaking driver guide. Transportation in a full option comfortable Mercedes minivan.
At your arrival, transfer to your hotel to drop off your luggage.
In the afternoon, walking tour of the Christmas market
Strasbourg Christmas market is the oldest in Europe. It started in 1570, and was called the "Christkindelsmärik" (literally meaning "the market of the child Jesus").
Since 1570, the tradition continues in Strasbourg in a traditional, generous, authentic and warm atmosphere. All why the city of Strasbourg is called the "Capital of Christmas".
Guided tour of Strasbourg city and its cathedral.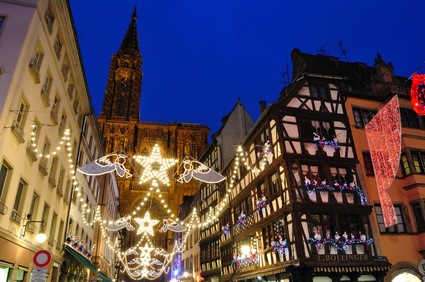 With its monumental cathedral featuring carvings as delicate as any piece of lacework, Strasbourg is one of Europe's most attractive cities. Thanks to the richness and sheer density of its heritage sites, the entire town centre has been listed as UNESCO World Heritage.
Enjoy a typical French goûter in the market with your guide.
We suggest to taste a delicious vin chaud (hot wine with spices), or a hot chocolate or coffee with traditional biscuits.
Around 17h30, drop off at your hotel.
Hotel**** near Strasbourg or Colmar - double Superior room with breakfast and taxes included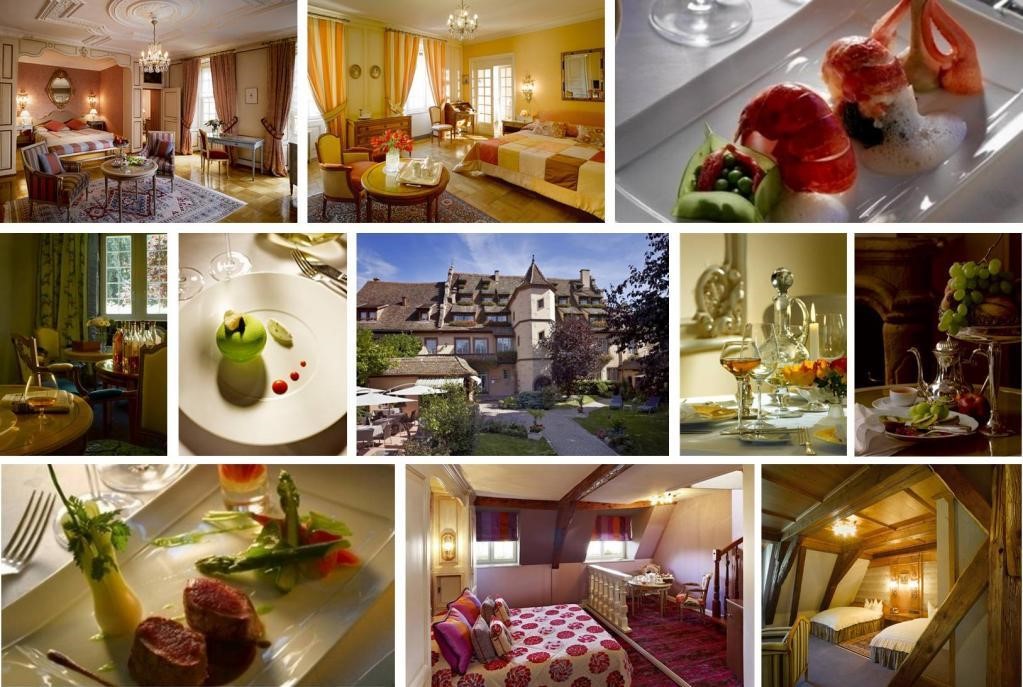 Formerly home to the king's lieutenants, barracks for military governors and then the abode of a baron of the Empire… This abbey, tucked away at the foot of the Alsatian vineyards.The light wood bedrooms are a reflection of the welcome which will be extended to you by Christiane and Pascal Funaro: subtle and welcoming.
Dinner included at your hotel, drinks not included.
Day 2: Private day around Colmar and small villages
9h30: Pick up at your hotel after breakfast.
Your private english-speaking driver guide meets you at your hotel.
Transportation in a full option comfortable Mercedes minivan.
In the morning, guided tour of the city of Colmar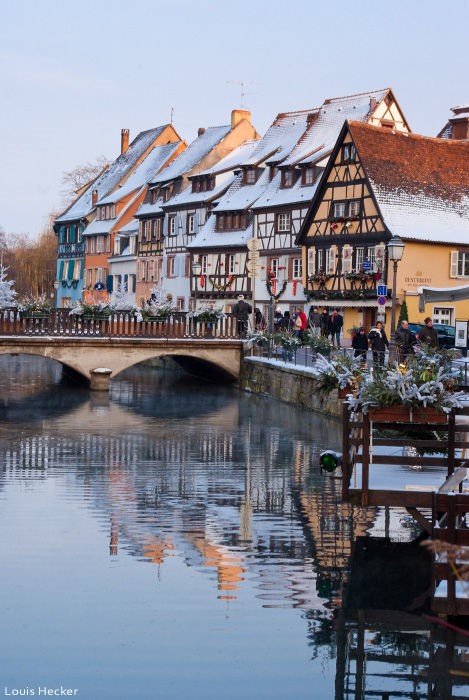 Colmar was founded in the 9th century. This was the location where Charles the Fat held a diet in 884. Colmar was granted the status of a free imperial city of the Holy Roman Empire in 1226. During the Thirty Years' War, the city was taken by the armies of Sweden in 1632, who held it for two years. The city was conquered by France under Louis XIV in 1697.
In 1679 (Treaties of Nijmegen) Colmar was ceded to France. With the rest of Alsace, Colmar was annexed by the newly formed German Empire in 1871 as a result of the Franco-Prussian War. It returned to France after World War I, was annexed by Nazi Germany in 1940, and then reverted to French control after the battle of the "Colmar Pocket" in 1945.
Lunch at leisure upon your guide's recommendations.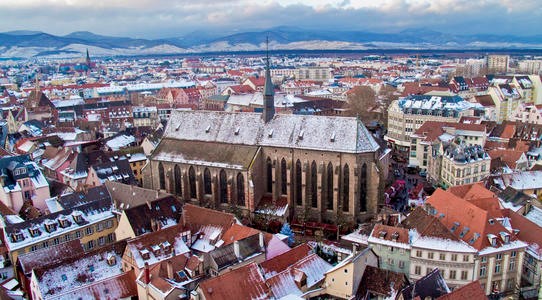 In the afternoon, discover the small villages of Ribeauvillé and Riquewihr, in the Christmas atmosphere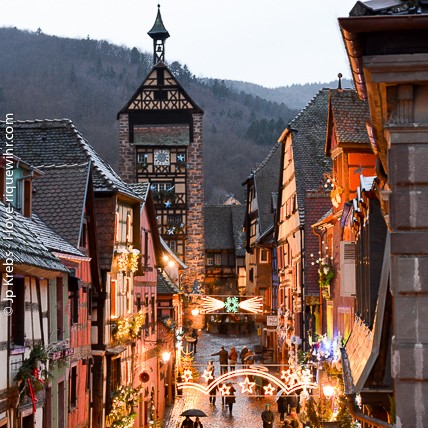 Ribeauvillé has a long History. It is first mentioned under "Ratbaldovillare" in an official document. It meant "Villa of Ratbold", which in old german "means "the boldest man of the counsel". Masters of great and little things, the Counts of Ribeaupierre who were the last lords of the town before the French revolution, were also the protectors of the travelling musicians and actors who filled the town every 8th of September. This tradition is still alive nowadays, and visitors from around the world gather in Ribeauvillé to see traveling musicians put up a tribute show to their ancient sponsors.
Around 17h30, drop off at your hotel.
Dinner at leisure.
Day 3: Discover the Route des Vins
Guided tour of the castle of Haut Koenisbourg (entrances included)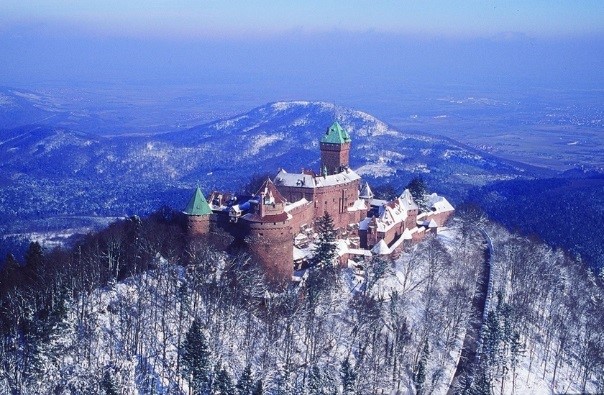 Since its construction in the 12th century, the Haut-Kœnigsbourg castle has been a constant witness to both European conflicts and rivalry between lords, kings and emperors.
A number of illustrious owners each left their mark on the castle's history, and successive events even led to changes in the castle's structure…
Transfer to Obernai for lunch.
Lunch at leisure upon your guide's recommendations.
Sightseeing of the city of Obernai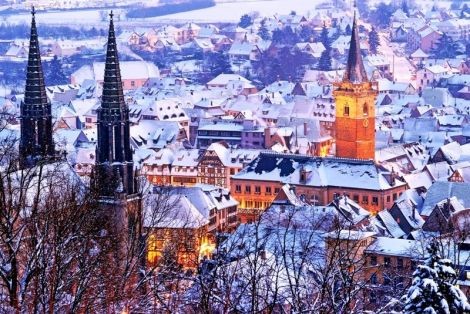 Obernai is one of the rare Alsace towns to have retained its traditional character and charm, with its medieval defences, its fortified towers, its half-timbered houses and its narrow lanes.
Wine tasting at a local winery
The "Alsace Grand Cru" AOC is attributed to wines whose key characteristic is the originality of the terroir in which they are grown (soil, exposure, climate etc.). It mainly concerns Gewurztraminer, Muscat, Tokay Pinot Gris, Riesling and, since the end of 2005, the Sylvaner of the Grand Cru Zotzenberg of Mittelbergheim, as well as assemblage wines from the Grand Cru Altenberg of Bergheim. These wines are harvested at the 50 Alsatian locations specified by the AOC designation. Furthermore, under certain conditions of ripeness, the bottle labels may say "Late Harvest" (long ripening of the grapes) or "Selection of Noble Grapes" (a selection of grapes affected by noble rot, or botrytis).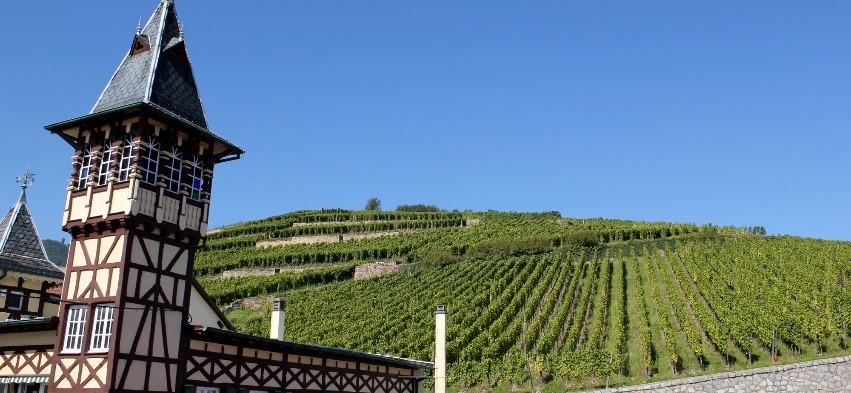 Drop off at Strasbourg airport or train station.
End of the services.
This tour includes
Transportation in a private comfortable full option Mercedes minivan for 3 days, private English speaking driver guide (8h maximum per day), visits and activities as mentioned.
Wineries and family estates may change according to their availability upon reservation. Should a provider be unavailable we will offer alternatives of the same standard.
This tour doesn't include
Other lunches, other dinners, other meals, other visits, air and train tickets, extra hour is 75€ (with a maximum of 2h per day), personal expenses, extra, and gratuities.
| | |
| --- | --- |
| Duration of the tour | 3 days |
| Minivan | The transportation of this excursion is operated in a comfortable full options minibus. Maximum 8 passengers per minibus. |
| Guide | This tour is escorted by an official Guide Interpreter. The guide gives you a tour of the monuments and presents you the history and architecture of the visited sites and towns. |
| Types of travel | Christmas tours |
| Destinations | Alsace |
| Duration | 3 days |
Expert on customized private tours all over France since 2003 !
You like this tour but you do not want to share the minivan with other guests ? We have the perfect fit for you ! Enjoy this tour on a private basis !
The exclusivity of a private expert English-speaking driver guide.
Private transportation in a full option minibus comfortable Mercedes minivan.
Complementary pick up and drop off at your hotel.
Our guides will not give you a lecture but will take you as a friend and in a relaxed way, reveal plenty of anecdotes ! The guarantee of having a tour completely adapted to your profile, your questions and your preferences !
Private Christmas Tour in Alsace - 6 people max, 3 Days and 2 Nights - Strasbourg, Colmar, Obernai, Wine Route
PRIVATE CHRISTMAS TOUR IN ALSACE / STRASBOURG CHRISTMAS MARKET / COLMAR / VILLAGES AND WINE ROUTE
Customer ratings and reviews
Nobody has posted a review yet