Cycling tours Loire Valley
This five day bike tour is for wildlife, Chateaux and garden lovers: 100 km on the official "Loire à Vélo" trail.
Tuff stone cliffs overlooking the Loire river, forests abounding in game, former Cher river tow path, picturesque villages in the middle of the vineyards…Wine tasting in Chinon, Ussé Sleeping Beauty's castle and the amazing Villandry gardens, where the "Love Garden", the "Kitchen Garden" and "Herb Garden" will take you back to the Middle Ages.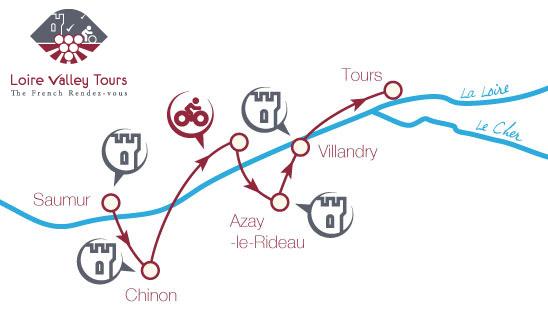 Day 1: Saumur-Chinon, 30 kms.
Meet in Saumur.
We provide you with quality bicycle, detailed maps, complete flat tire set, and helmets, entrance tickets to tour the Loire Valley gardens of Villandry, vouchers for hotels and other services in the tour, itineraries, maps, emergency phone numbers for assistance.
You are welcome to take a short ride for final bike adjustments.
For assistance during your tour, you may contact us 7 days a week on our emergency line.
From Saumur and its impressive castle overlooking the Loire River, this stage takes you along little country roads to Chinon.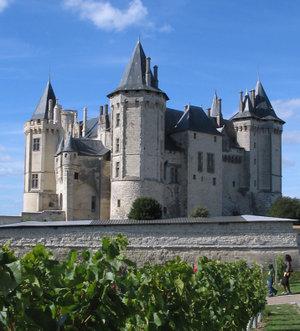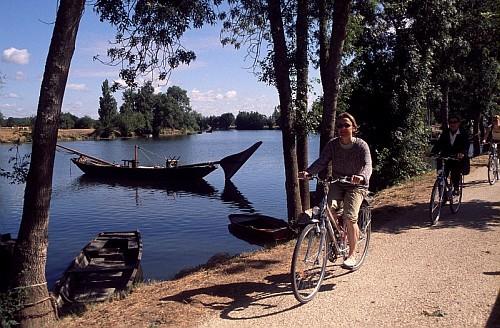 In Montsoreau, admire its Chateau made famous by Alexandre Dumas.
Candes Saint Martin, one of the most beautiful villages in France, where the Vienne river meets the Loire.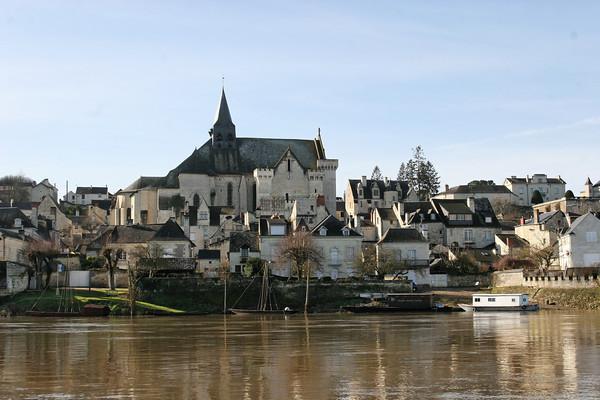 Arrival in Chinon.
Check in at 3* hotel, in the medieval quarter of Chinon.
Dinner at leisure upon our recommendation.
Day 2: A day around Chinon.
The Garden of France.
Enjoy your day in Chinon for wine tasting and cycle through the vineyards, asparagus and strawberry fields, apple and peach orchards and understand why the French nickname the Loire Valley "the Garden of France".
We will recommend you two local producers in two different areas in the vineyard: Cravant les Coteaux and Ligré.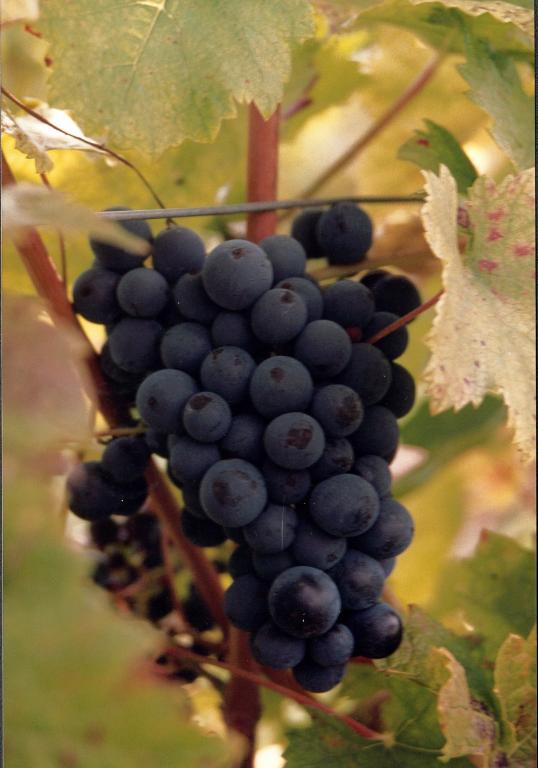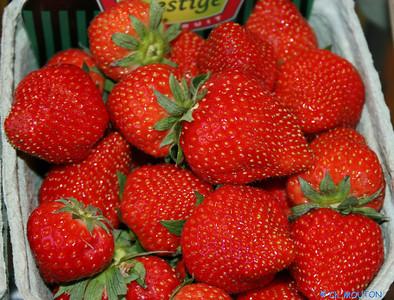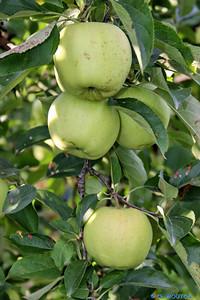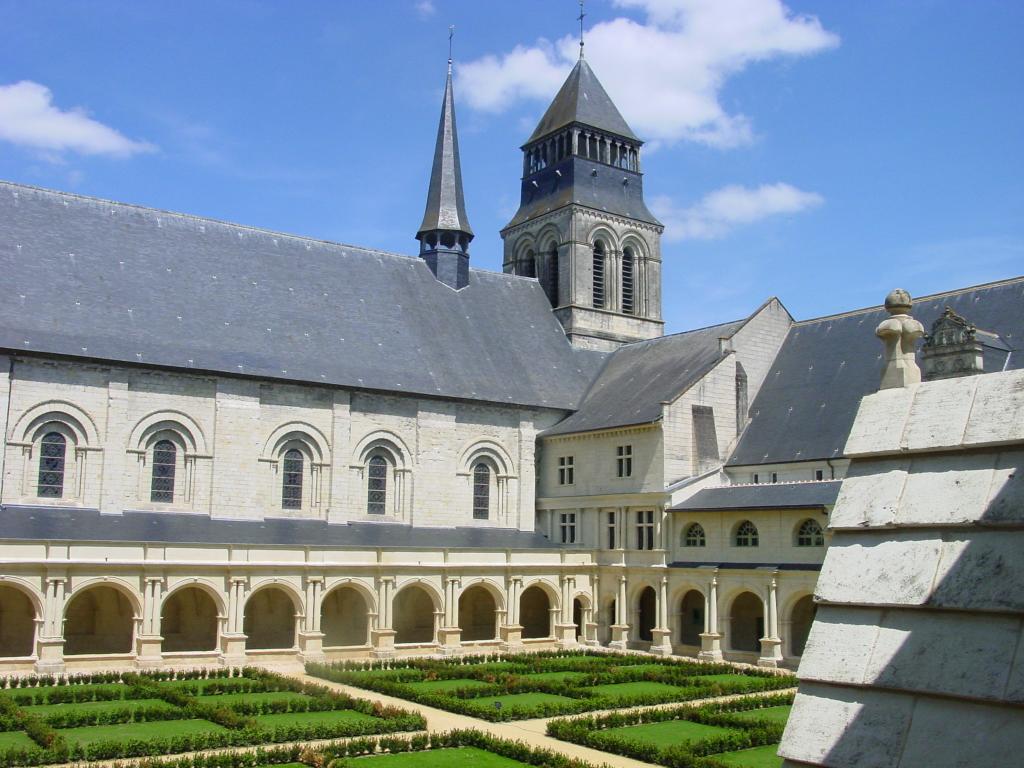 Abbaye Royale of Fontevraud
You can take advantage of your free time to head to lovely Château de Marcay (hotel), tour of "la Devinière", François Rabelais house or the Abbaye Royale (royal abbey) of Fontevraud, founded in 1099, masterpiece of Romanesque art which houses the tombs of the Plantagenets (Henry II &Richard the Lion's Heart).
Night at hotel.
Dinner at leisure upon our recommendation.
Day 3: Chinon-Langeais-Azay le rideau, 37 kms.
In this stage you will be in awe in front of Chateau of Ussé, by the Indre river. This chateau inspired Perrault to write "the Sleeping Beauty".

Then pedal to Langeais by the Loire river and see the spectacular and imposing medieval fortress, with its crenulations, machicolation, draw bridge… It is a good spot to bird watch and have a chance to identify some of the most endangered species in the world, such as sand martins, terns, king fishers, ospreys.
Finally head to your 3* hotel, in Azay le Rideau.
Dinner at the hotel.
Day 4: Azay le Rideau-Villandry-Tours, 33 kms.
Check out an ride to Tours,via Villandry.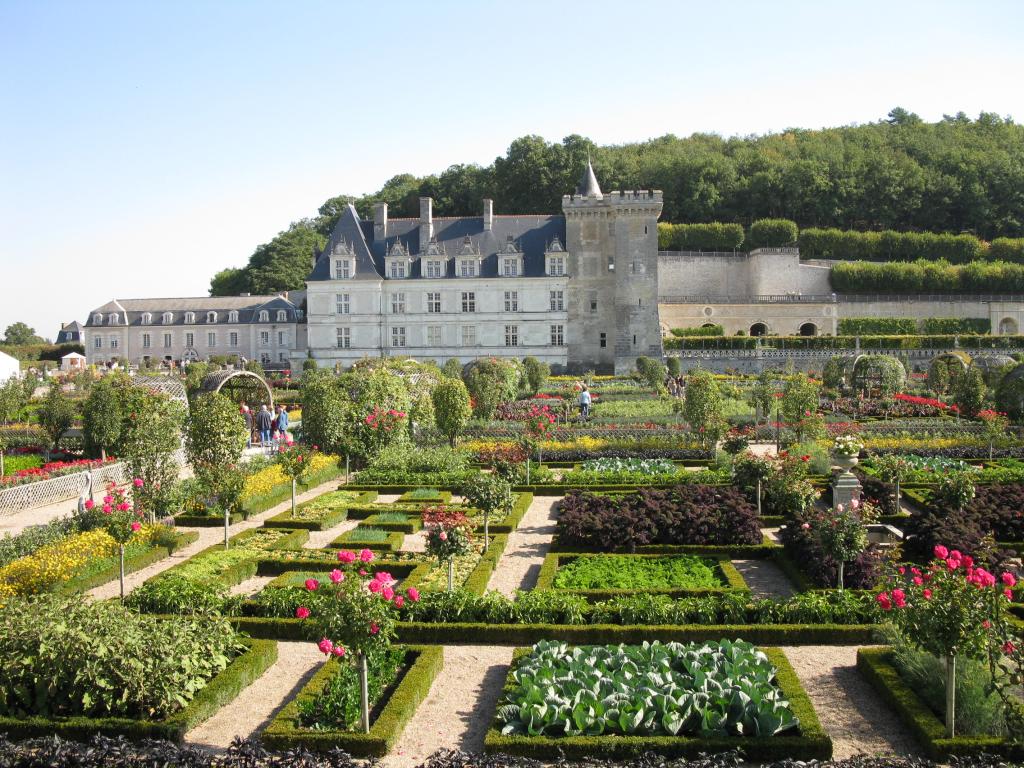 Tour of one of the most spectacular gardens of Touraine, Chateau of Villandry.
By its diversity and originality (Love Garden, Kitchen Garden, Aromatic and Medicine Plant Garden, Water Garden and the brand new Sun Garden) and by its size ( 15 acres, 1150 linden trees), Villandry is the Loire Valley garden not to be missed. Learn to speak the language of a medieval and Renaissance garden, discover the power of thyme and basil on your health.
Pedal into Tours on the former Cher river towpath.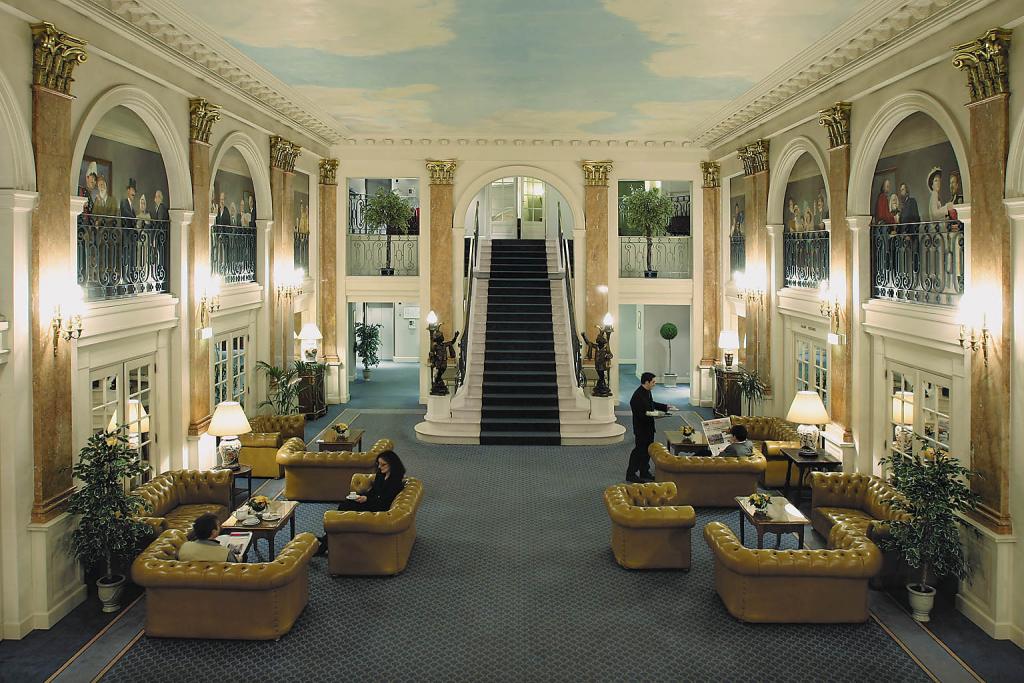 Check-in at the 4* Hôtel in Tours.
Your hotel is set in a fashionable shopping area one kilometre from the Old Town. This hotel has been the most prestigious address in Tours since 1846. Many large personalities of the Europe and the New World stayed in this best hotel of Tours. In addition to its rich and historic past, as underlined by its celebrated portrait gallery, it offers all the comfort of a grand hotel established in the best traditions of hospitality and elegance "à la Française".

Enjoy Tours by foot or bike.
Discover the area known as "Old Tours", pedestrian streets and numerous XVth and XVIth c. timber-framed houses, the famous place Plumereau, Charlemagne Tower, Saint-Martin collegiate church, and the new Saint-Martin Basilica.
Walk in the fabulous market on Tours, the largest food market in the Loire Valley. Open market on Wednesdays and Saturdays and covered market every day. Discover our wines, cheeses, our fruits, vegetables, local meat dishes (charcuterie) and fish.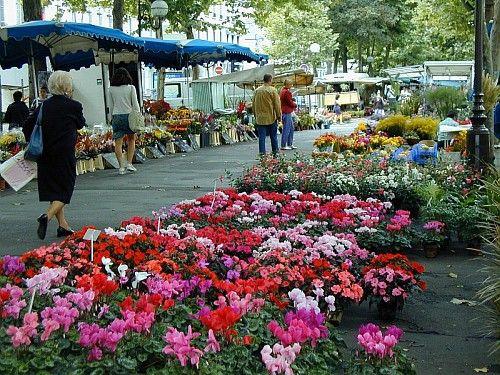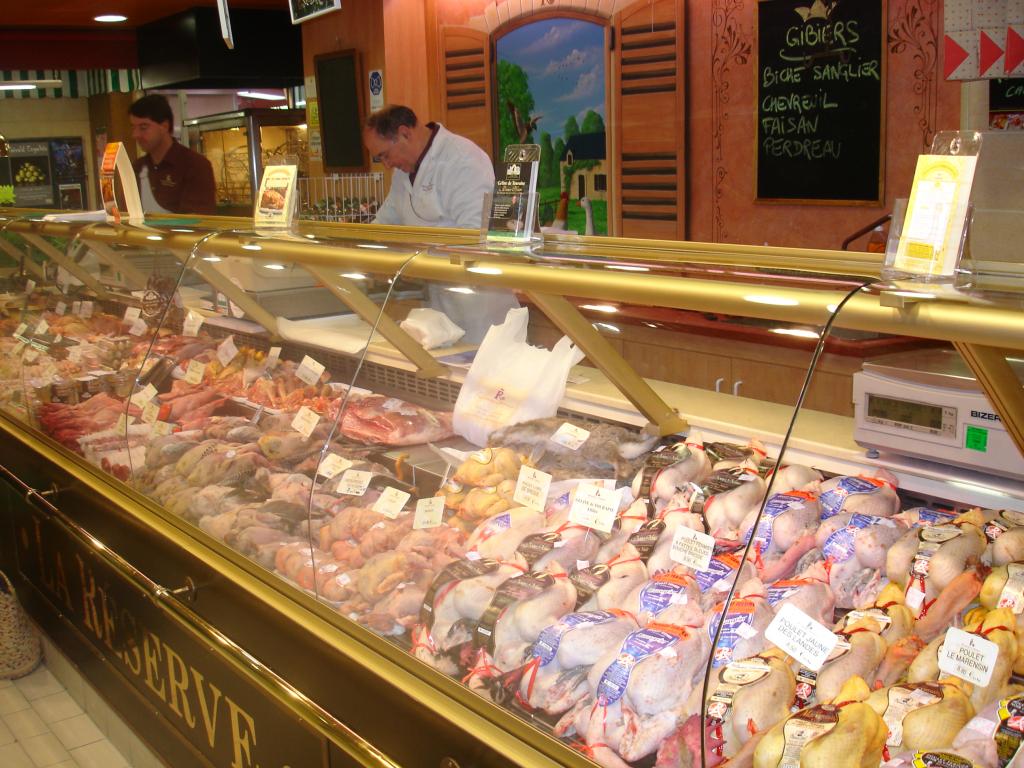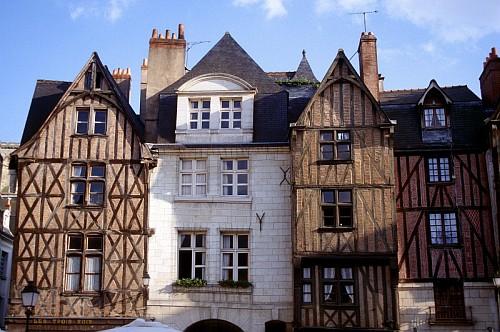 Tours is the largest city in the Loire Valley and its capital city. Located in the heart of the region, it is the best base for sightseeing. Historically and architecturally speaking, it is one of the cradles of the French Renaissance. Discover the cathedral, the picturesque Place Plumereau and its medieval and Renaissance houses...

Dinner at leisure in Tours upon our recommendation.
Day 5: End of the tour.
Check out after breakfast.
This tour includes
3 nights in 3* hotels and 1 night in 4* hotel, double occupancy, 1 dinner, 4 breakfasts, luggage transfers from hotel to hotel, high quality bike hire for 4 days (21 gears, anti flat tyre kit, lock, small bag), helmets, travel pack (entrance tickets to tour the Loire Valley gardens of Villandry, vouchers for hotels and other services in the tour, itineraries, maps, emergency phone numbers for assistance) per day.
This tour doesn't include
entrance tickets in other sites, lunches, drinks, personal expenses, extra.
Escort cycling tour guide (360.00 € per day).
| | |
| --- | --- |
| Duration of the tour | 5 days |
| Type of tour | Bike tour |
| Children | Reduced price for children under 12 years old. Free of charge for infants under 3 years old. |
| Bike | This is a bike tour. We transfer your luggage from hotel to hotel. |
| Chateau | The tour includes the tickets to the Chateaux mentioned in the tour. You avoid all queues and have direct access to the monuments with your guide. |
Expert on customized private tours all over France since 2003 !
You like this tour but you do not want to share the minivan with other guests ? We have the perfect fit for you ! Enjoy this tour on a private basis !
The exclusivity of a private expert English-speaking driver guide.
Private transportation in a full option minibus comfortable Mercedes minivan.
Complementary pick up and drop off at your hotel.
Our guides will not give you a lecture but will take you as a friend and in a relaxed way, reveal plenty of anecdotes ! The guarantee of having a tour completely adapted to your profile, your questions and your preferences !
Reviews
By
Steven W.
on 07 Aug. 2017
(

Loire Valley cycling tour from Saumur to Tours, 100 kms.

)
:
Thanks again for a wonderful adventure
We had a fabulous time on the tour and we're enjoying our last lunch in Tours before returning to Paris and then London. We left the bikes and equipment with the hotel in Tours.

Loire Valley cycling tour from Saumur to Tours, 100 kms.
Customer ratings and reviews