-- This tour is available in english only --
2 people

3 people

4 people

5 people

6 people

7 people

8 people

Price

per person

380 €

280 €

230 €

195 €

175 €

160 €

150 €
| | Price per person |
| --- | --- |
| 2 people | 380 € |
| 3 people | 280 € |
| 4 people | 230 € |
| 5 people | 195 € |
| 6 people | 175 € |
| 7 people | 160 € |
| 8 people | 150 € |
BORDEAUX VISIT AND MARGAUX PRIVATE WINE TOUR
Our Bordeaux and Margaux wines tour offers the best of our local experts and guides' selections among already most renowned city for its 18th century elegance and oldest vineyards in the world that dates back from the antiquity in the 60BC century. You will experience the most fascinating cultural heritage of Bordeaux ancient past while immersing in modern and traditional wine culture, visiting sites, vineyards and wine tasting the famous and best selections of wine.
At 9.30am, your guide will pick you up at your hôtel.
Come and discover one of the most fascinating French towns that has just recently resurrected. The whole city of Bordeaux is classified a "City of Art and History" and UNESCO heritage. The city is a rich home to one of Europe's largest collection of 18th Century architecture and will leave you in awe. This two hours walking tour will take you back in time and crossing over many centuries just walking through Bordeaux. From the roman antique Palais Gallien to the middle age St. Michael church, to the The Neo-classical Grand Theater or Saint Andrews Cathedral, you will be left with many stories to tell about Burdigala, the roman name of Bordeaux. Your accredited/licensed tour guide can be flexible on the itinerary but will definitely include the most famous landmarks.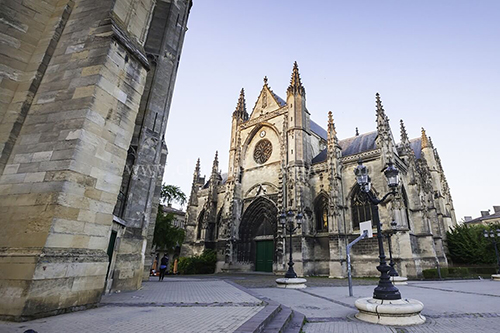 Lunch and free time
Enjoy the many fabulous restaurants and go strolling along the most famous pedestrian streets of Bordeaux along the Quai de la Garonne, a fabulous path along the river with the whole 18th century town to admire, or go shopping in the myriad of chic haute couture or casual St.Catherine and Les Cours' boutiques.
On the Route des Châteaux (Châteaux' road), Two visits and tastings of renowned Margaux Classified Growth Châteaux (Cru Classé & Cru Bourgeois)
The appellation is world famous for its lead 1er Grand Cru Classé: Chateau Margaux. As you follow a part of the Château Route you will discover 2 renowned Classified Growth Châteaux (Cru Classé & Cru Bourgeois) that create wines in which the Cabernet Sauvignon is the predominant grape variety. You will learn about the Margaux appellation and encounter those wine makers taking their place in the history, and you will learn and experience everything this living cultural heritage of Bordeaux's wine has to teach from grape varieties, to geology of the soil or the terroir, the climate, the art and the technics of wine making in this Bordeaux wine region.
It is hard to separate Bordeaux Medoc wines from their cultural and historical heritage. Indeed, Bordeaux wines fame go way back in antiquity. Bordeaux was already starting to earn fame for its wines as far back as the 1st century AD. Romans had settled in 60BC in Burdigala and already started to plant and cultivate wine. From Pompei to England, Bordeaux wines from the right bank of Saint-Emilion was known in all around Europe's royal court and churches and served to royal wedding. And in the 16th century, Dutch consumers of wine will change Bordeaux wines fate forever by creating what is now known as the Medoc, part of the Left Bank. Motivated by the need to quicken the export of Bordeaux Wines to Dutchland, they dried out all the swamp lands and marshes to create agricultural land, vineyards and direct routes to the Atlantic via the Estuary of the Gironde. It is on this piece of land that the most famous Châteaux will be born. From the 17th century on, Wine trade was entrusted to 'negociant' or wine traders by the royal vineyards owners, and it is no secret that the Medoc became a refuge for the wealthy nobility. They had the vision and the money to create what we know as Bordeaux's Medoc today.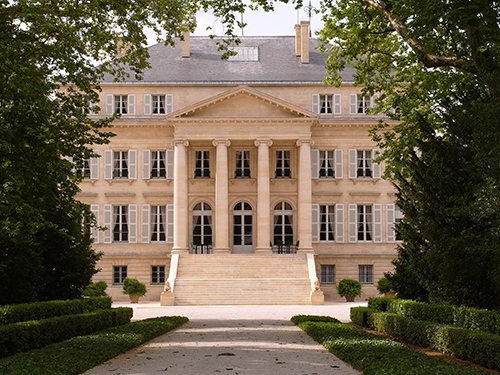 Sightseeing and photos stops
Left Bank Bordeaux wines include most renowned Châteaux like Châteaux Margaux, Palmer. As time allows, we will stop in front of renowned wineries such as Palmer, Margaux, Rauzan Segla, Cantenac Brown.
At 6.30pm, your guide will drop you off at your hôtel.
This tour includes
Transportation in a comfortable full options minivan for the day.
Free Wifi access on Board.
Hôtel pick up and drop off in Bordeaux City Center.
Bottled water in the minivan.
English speaking licensed guide.
Reservation for 2 winery visits of Classified growth châteaux.
Private Guided walking tour with licensed guide in Bordeaux.
This tour doesn't include
Wine Tasting fees, Personal insurance and expenses, Entrance fees. Other meals and other drinks. Gratuities for guide.
IMPORTANT INFORMATION: Due to the refurbishment works next to the Bordeaux train station, we recommend that customers from Paris take the train the day before so that they can guarantee their punctuality on the day of their tour.
-- This tour is subject to availability --
| | |
| --- | --- |
| Duração do tour | 1 dia |
| Tipo de tour | Private tour |
| Língua | English only |
| Hotel adress | Hotel pick up in Bordeaux |
| Van | Tour semiprivado ou privado. O transporte desta excursão é operado em vans com opções completas e confortáveis. Máximo 8 passageiros por van. |
| Guia | Tour semiprivado ou privado. Esta excursão é acompanhada por um Guia oficial Intérprete. O guia oferece um passeio pelos monumentos e apresenta a história e a arquitetura dos locais e cidades visitados. |
| Destination Code | FR ABO | Amboise |

Especialista em roteiros personalizados em toda a França desde 2003 !
Você gosta de este roteiro, mas não deseja compartilhar o microônibus com outros hóspedes? Temos o ajuste perfeito para você! Aproveite esse roteiro numa base privada!
Exclusividade de um motorista guia que fale português.
Transporte particular em um microônibus Mercedes confortável com todas as opções.
Colheita e entrega complementar no seu hotel.
Nossos guias não vai lhe dar uma palestra, mas ele vai levá-lo como um amigo e de uma forma descontraída, revelando muitas anedotas! A garantia de ter um tour totalmente adaptado ao seu perfil, suas dúvidas e as suas preferências!
Private Bordeaux Wine tour: Bordeaux Heritage and Margaux treasures - Monday to Sunday
Customer ratings and reviews
Nobody has posted a review yet